1 February 2017
Australia Day celebrations a great success
Parramatta celebrated Australia Day in fine style with festivities held across the LGA, including community events at Sydney Olympic Park, North Rocks and Winston Hills. A record crowd of around 70,000 people turned out for a jam-packed program of events at Council's official celebration in Parramatta Park. It was wonderful to see so many people enjoying all the activities on offer over 15 hours, including Sydney's biggest hot air balloon display, the Big BBQ, CARnivale, Triple J's Hottest 100 countdown, a host of acts on the Crescent main stage, and a spectacular evening fireworks show. Thank you to everyone who helped make the event such a success, including the Parramatta Park Trust and all of our event sponsors.
Honouring our leading citizens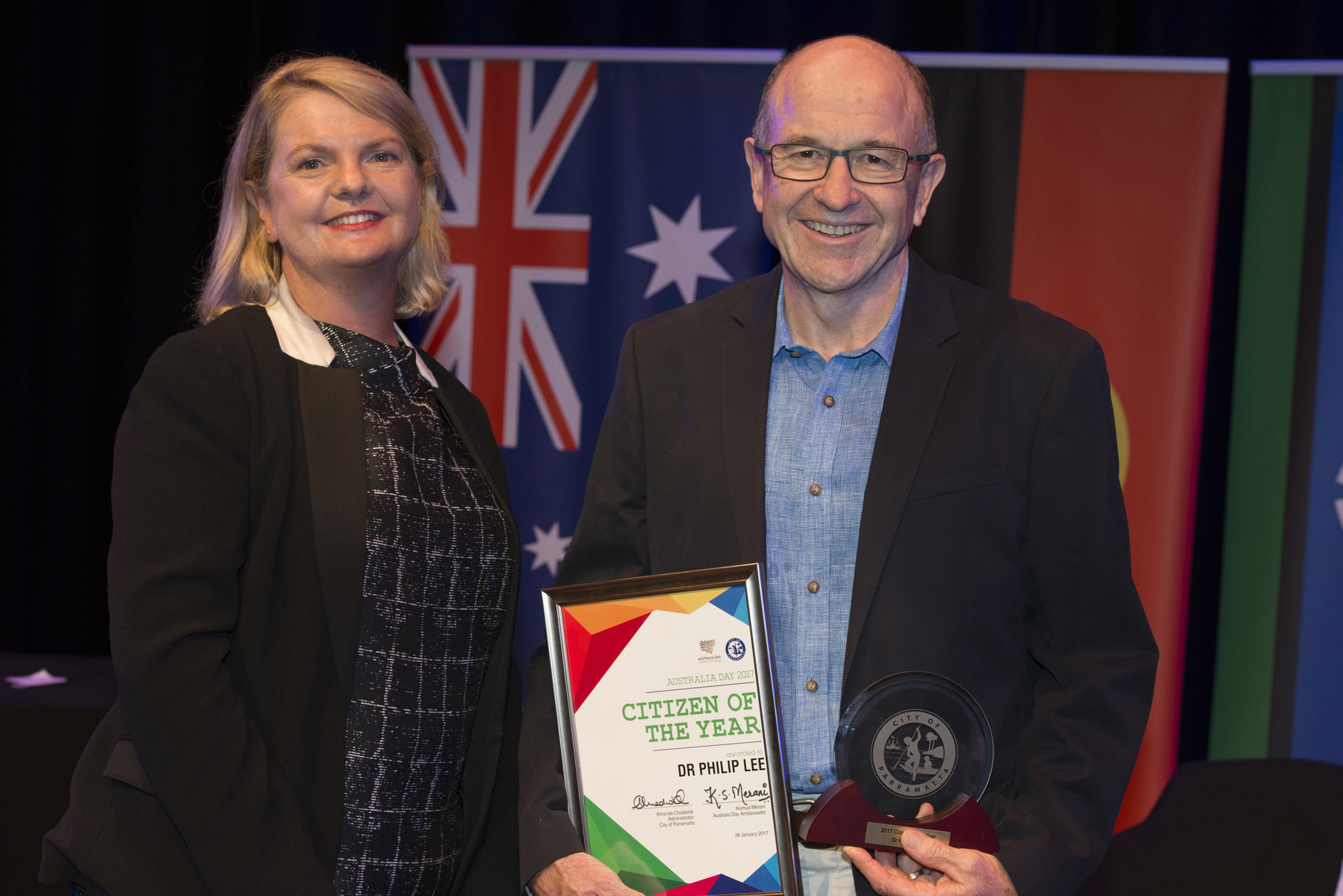 The inspiring work of some of our most outstanding community members was recognised when City of Parramatta's Australia Day awards were presented at Riverside Theatres, with our Australia Day Ambassador Kumud Merani joining me to honour a worthy list of local recipients.
Respected local Westmead clinician, Dr Philip Lee was named 2017 Citizen of the Year for his extensive contributions in palliative care and advocacy over 40 years. The 2016 Vice-Captain of Our Lady of Mercy College Parramatta, Gabriella Wehbe was awarded Young Citizen of the Year, whilst Deborah Martin received Senior Citizen of the Year.
Congratulations to all of our award winners who set a fine example for us to follow. A full list of recipients can be found on Council's website – www.cityofparramatta.nsw.gov.au It was a pleasure to be joined by our new Citizen of the Year and other key Parramatta community leaders at Premier Gladys Berejiklian's official Australia Day function in Western Sydney. These dedicated people work on the front lines in our community and this was an opportunity for them to be recognised.
Welcoming the Year of the Rooster
Parramatta will welcome the Year of the Rooster during our spectacular Lunar New Year celebrations in Centenary Square this Friday 3 February, from 4.30pm to 9.30pm. Comedian Michael Hing will host the main stage as our City comes alive with entertainment from local and international performers, such as Sophia Bridget Dalisay and special guests, Shaan'xi Province Art Group. There will be a 10-minute fire show from the Dauntless Movement Crew, the traditional Lion and Dragon Dance, free lantern-making and calligraphy workshops, and a fireworks display. Lunar New Year festivities are already underway, with a celebration held at North Rocks Shopping Centre last weekend and a community event to be hosted at Wentworth Point on Saturday 4 February from 6pm. For more details about Parramatta's Lunar New Year program visit Council's website.
Past Columns