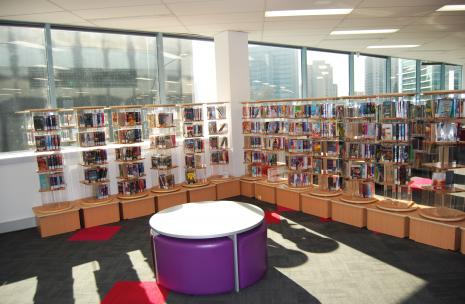 The Parramatta City Library network has an extensive array of collections covering a wide range of topics and interest areas.
Books
You can choose from more than 280,000 books from fiction, non-fiction, large print, paperbacks, easies/picture books, junior easy readers and the teen/young adult collection.
eBooks
Members have access to a large number of eBooks.
Music, CD-ROMs, Talking Books, Videos and DVDs
Interested in movies and music? Choose from 31,000 non-book items including music CDs, CDs, DVDs and Blu-rays featuring movies, classics, documentaries, travel and children's programs.
Magazines
There is a wide variety of magazines available ranging from the latest fashion, health, entertainment, business, finance, gardening, food, teenagers, computers and cooking titles.
Community Languages
Choose from an outstanding collection of Arabic, Chinese, Greek, Hindi, Italian, Korean, Persian, Turkish and Vietnamese language books and non-books. Languages not held by City of Parramatta
Library can be requested from the State Library. See Library staff for assistance.
Basic English and Literacy
A wide range of Basic English books and non-book and literacy items area available to library members.
Local History
Are you a history buff? Find out more about the history of Parramatta and its surrounds from books, photographs, newspapers and online resources from the Local Studies Library.
Newspapers
A wide variety of newspapers in English and community languages are available for use in the library.
HSC collection
HSC students can access an extensive collection of HSC texts, study guides and non-book items.
Reference and Special Collections
Special collections relating to legal information (LIAC), drug information (DI@YLL) and more are available in the library or online.