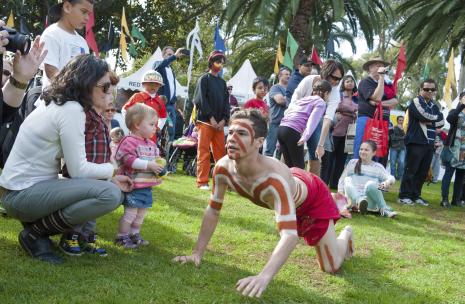 Welcome to Country
A 'Welcome to Country' or 'Traditional Welcome' is where the Darug people welcome people to their land at the beginning of a meeting, event or ceremony. This welcome must be conducted by an appropriate person such as a recognised Elder or person nominated by the Darug within the local area.
Welcome to Country enables the Darug to give their blessing for the event and is an important mark of respect for local Traditional Owners.
For information on Welcome to Country please contact the Community Capacity Team who will talk to you about the process and where appropriate supply with you approved names.
The Community Capacity Building Team can be reached on 98065138.
Acknowledgement of Country
'Acknowledgement of Country' is where other people acknowledge and show respect for the Traditional Custodians of the land on which the event is taking place. This acknowledgement is a sign of respect and it should be conducted at the beginning of a meeting, event or ceremony.
It is important to note in the acknowledgement that ATSI people continue to reside in the City of Parramatta Council area to which they have ongoing spiritual and cultural ties.
Acknowledging Country should take place when traditional Elders are not available to provide an official Welcome to Country. Furthermore, an acknowledgement of Country can be performed by both ATSI and non-ATSI people.
The following is considered appropriate wording for an Acknowledgement of Country.
"I would like to acknowledge that we are here today on the land of the Darug people. The Darug people are the Traditional Owners of this land. City of Parramatta Council also acknowledges the present Aboriginal and Torres Strait Islander people, who now reside within this area".
ATSI Advisory Committee
Council's Aboriginal and Torres Strait Islander Advisory Committee was established in 1995 and advises Council on the issues, needs and priorities of Aboriginal and Torres Strait Islander people and communities. For further information please visit Advisory Committees.
NAIDOC
Parramatta Council holds a number of events and celebrations in NAIDOC Week (each July) to celebrate the history, culture and achievements of Aboriginal Torres Strait Islander peoples. Every year Council with the support of the ATSI Advisory Committee runs the Barramattagul Fun Day at Prince Albert Park. Activities include weaving workshops, musical acts, food and art stalls and dancing.
Sorry Day
Council also commemorates Sorry Day on 26 May each year as part of the Nationwide Sorry Day acknowledgements. This event is of particular significance to the area as the Stolen Generation began outside the Parramatta Town Hall in 1810 through the Assimilation Policy (1810-1825). Governor Lachlan Macquarie believed that it would be in the best interests of the nation to 'civilise' the native population. In doing so the Native Institute was established.