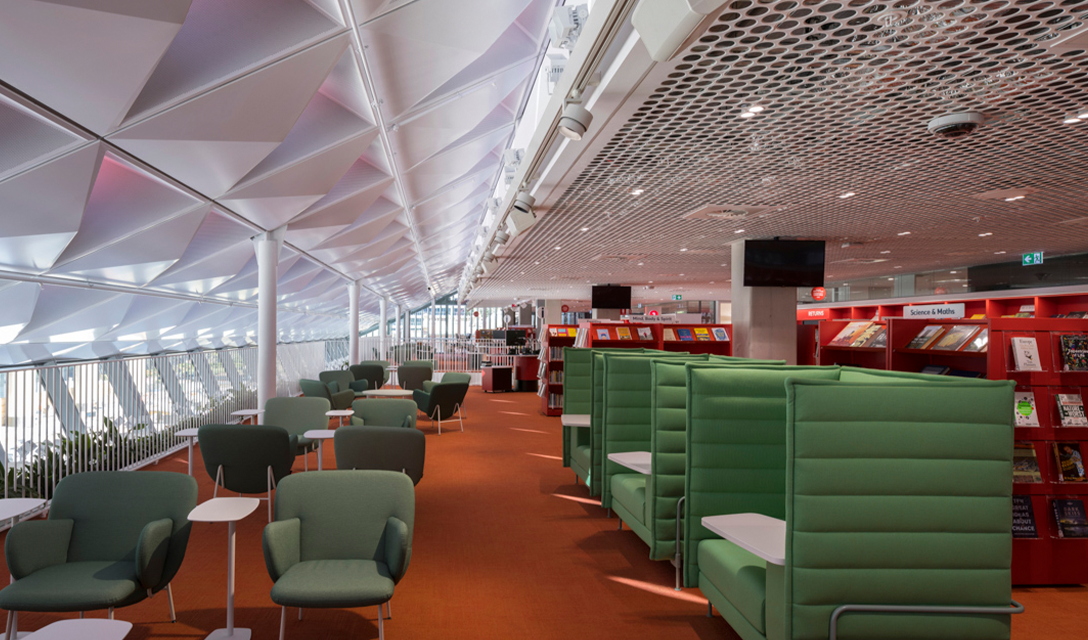 Come and visit
Our new state-of-the-art City of Parramatta Library sits on levels one and two of PHIVE. 
Explore Our Library
With views overlooking Parramatta Square, a coffee from our upcoming café on ground floor and more than 65,000 books to explore, you'll want to sit, read or study all day!
Our extended hours make it even easier for you to enjoy what's on offer.
The two floors of our library are fully accessible, with easy lift connections between levels.
Explore the collection
Everyone is welcome to visit Parramatta Library and explore the vast collection.
Browse the bookshelf displays to discover something new to read, or search by genre.
Head to level one for newspapers, magazines, large print books, audiobooks and DVDs.
Discover more about Parramatta's history and heritage in the dedicated Local Studies Research Library.
Self check-out kiosks and smart book return shelves are located on both levels of the Library. Books can also be returned at the chute outside PHIVE 24 hours a day, 7 days a week. 
Library for families
Level one includes a dedicated children's space, with a large kids book collection.
Borrow books for reading at home, or take the kids along to the regular Story Time program for 0-5 year-olds.  
Modern parenting facilities can be found next to the children's library.
Find out about our other family friendly events and activities held throughout the year. 
Story Time
During the school term, Story Time is held on level 1 in the children's area. Each session runs for 30 minutes. Story Time is free. No bookings needed. Our schedule is as follows: 
 
Monday, 10:30am: Preschool Story Time (3 – 5 years)
Mondays, 1:30 pm: AUSLAN Interpreted Story Time (0 - 5 years)
(31 July, 28 Aug, 25 Sept, 30 October, 27 Nov) 
Tuesday, 10:30am: Toddler Time (18 month - 3 years)
Wednesday, 10:30am: Bibs and Books (0-2 years)
Thursday, 2pm: Bibs and Books (0-2 years)
Friday, 10.30am: Preschool Story Time (3 - 5 years)
Saturday, 10:30am: Family Story Time (all ages)
Sunday, 10:30am: Family Story Time (all ages)
Enjoy our events
Throughout the year, the Library hosts an exciting program of events where you can learn a new hobby or skill, or meet new friends. Join us for:
Author talks
STEM and coding classes
Digital literacy classes
Book clubs
English conversation classes
Creative writing workshops
Leisure groups. 
You can view our library events here. 
Library technology and other services
Whether you need a quiet place to study, work or meet. You'll find it at the City of Parramatta Library. 
Public computers, which are free to use.
Free public WiFi throughout.
Plug and play personal device and mobile device charging points.
Printing and scanning services.
Justice of the Peace services are available. Check our calendar for times.
The friendly team of library and technology support staff are always on hand if you need assistance.
Join the library
To borrow a book or resource, you need to become a member. It's free and easy to join - just see the friendly library staff or become a member online.
A membership will also give you free, 24/7 access to the online library catalogue which offers a vast range of electronic eBooks, eMagazines and eAudio.
Online Library
Check out the online City of Parramatta Library website.
Library opening times
The library is open the following extended hours:
Monday to Thursday: 9am – 8pm
Friday to Sunday: 9am – 5pm
Closed Public Holidays
Library Gallery