The City of Parramatta is represented by 15 Councillors who have been elected for a 3-year term, until September 2024.
Our Councillors are elected by residents and non-residents across five electoral areas known as wards, with the Lord Mayor and Deputy Lord Mayor elected by the Councillors.
A Councillor's role as an elected representative is to provide an essential link between the community and Council. Councillors must work as a team to make decisions and policies that guide the activities of the council. The role of Councillors is defined in the Local Government Act (1993).
Councillors also adhere to our Code of Conduct and other relevant policies such as the Code of Meeting Practice, and procedures relating to facilities and expenses.
For more information on the role of Councillors, visit Councillors - Office of Local Government NSW.
 
The 15 Councillors elected for the period December 2021 – September 2024 are: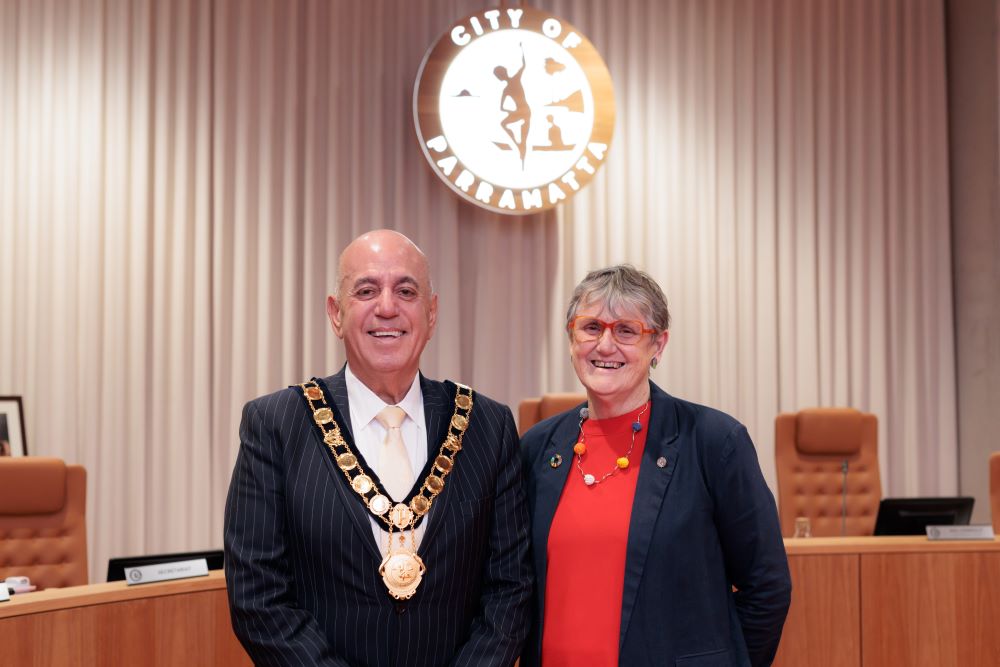 Councillor Pierre Esber was elected Lord Mayor and Councillor Dr Patricia Prociv elected Deputy Lord Mayor at the Extraordinary Council Meeting of 25 September 2023. Lord Mayor Esber and Deputy Lord Mayor Prociv will hold the positions until the next local government elections to be held in September 2024. 
Front Row (L to R): Cr Lorraine Wearne, Cr Cameron MacLean,  Cr Sameer Pandey, Cr Donna Davis, Cr Dan Siviero, Cr Georgina Valjak, Cr Kellie Darley
Back Row (L to R): Cr Michelle Garrard, Cr Henry Green, Deputy Lord Mayor Cr Dr Patricia Prociv, Lord Mayor Cr Pierre Esber, Cr Phil Bradley, Cr Paul Noack, Cr Donna Wang, Cr Ange Humphries.
*Councillor Class Photo taken in October 2022, prior to the election of Cr Pierre Esber to the position of Lord Mayor in September 2023
Declaration of Office
The Declaration of Office and first Council Meeting of the 2021 – 2024 Council term took place on 10 January 2022 for our Councillors to take their Oath of Office and elect the Lord Mayor and Deputy Lord Mayor for 2022 – 2023.
*Cr Pierre Esber was elected to the position of Lord Mayor in September 2023.
Meet the Councillors
Please note, information will be updated as it becomes available.
 
Under the Local Government Act 1993, all Councillors are required to undertaken an oath or affirmation of office at or before the first Council meeting following the election. All City of Parramatta Councillors undertook this declaration prior to the first Council Meeting on 10 January 2022. A copy of this register can be found here.