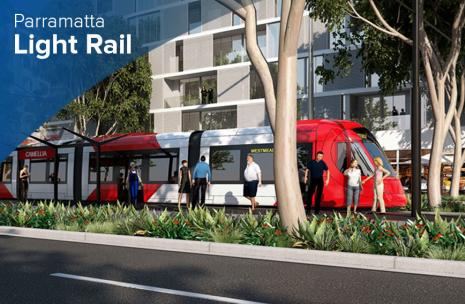 Parramatta Light Rail will provide a link between the city's ever-growing residential, employment, cultural and educational districts.
The network promises an enjoyable, faster and more free-flowing circulation of people, knowledge, and resources within Greater Parramatta and will deliver further investment and jobs.
The proposal for a feasibility study into light rail for Western Sydney was first brought to light in 2013, with Council investing $1 million into the project. In July 2014, the NSW State Government announced that it would provide a further $10 million for a detailed feasibility study for the Western Sydney Light Rail Network.
In February 2017, Transport and Infrastructure Minister Andrew Constance confirmed the State Government's $1 billion proposal for a light rail line between Westmead, Parramatta and Carlingford. 
The project will not only provide enormous economic benefits to the city, it will help with precinct renewal and cut travel times to improve the quality of life for thousands of people who commute in and out, and around Parramatta every day.
City of Parramatta Council continue to work with the State Government to assess the best outcomes for the community throughout the process, including stop locations, heritage and design.
An Environmental Impact Statement is due in August this year and will allow for feedback from our community and its members. Construction on Stage 1 is scheduled to start in 2018, with the first stage set for completion by 2023.
Planning work for Stage 2 of the project is currently underway with the proposed route set to link Camellia to Strathfield, via Sydney Olympic Park. We believe the proposal will provide a solid base for an orderly expansion of the network and position Parramatta as the New Central.