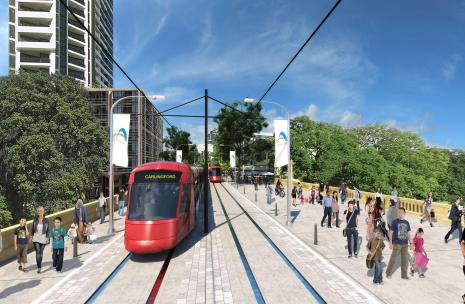 Parramatta Light Rail will provide a link between the city's ever-growing residential, employment, cultural and educational districts.
The project will not only provide enormous economic benefits to the city, delivering further investment and jobs, it will also help with precinct renewal creating an enjoyable and more free-flowing circulation of people, knowledge, and resources within Greater Parramatta. 
The Parramatta Light Rail will also cut travel times to improve the quality of life for thousands of people who commute in and out of, and around, Parramatta every day.
City of Parramatta Council will continue to work with the NSW Government to assess the best outcomes for the community throughout the process, including stop locations, heritage and design.
Stage 1 of Parramatta Light Rail will connect Westmead to Carlingford via Parramatta CBD and Camellia. For more information, go to the Parramatta Light Rail Stage 1 page.
Stage 2 of Parramatta Light Rail will link Sydney Olympic Park and Wentworth Point with Rydalmere, and the Parramatta CBD. For more information, go to the Parramatta Light Rail Stage 2 page.
Parramatta Light Rail is part of a record $80 billion investment in state infrastructure over the next four years.