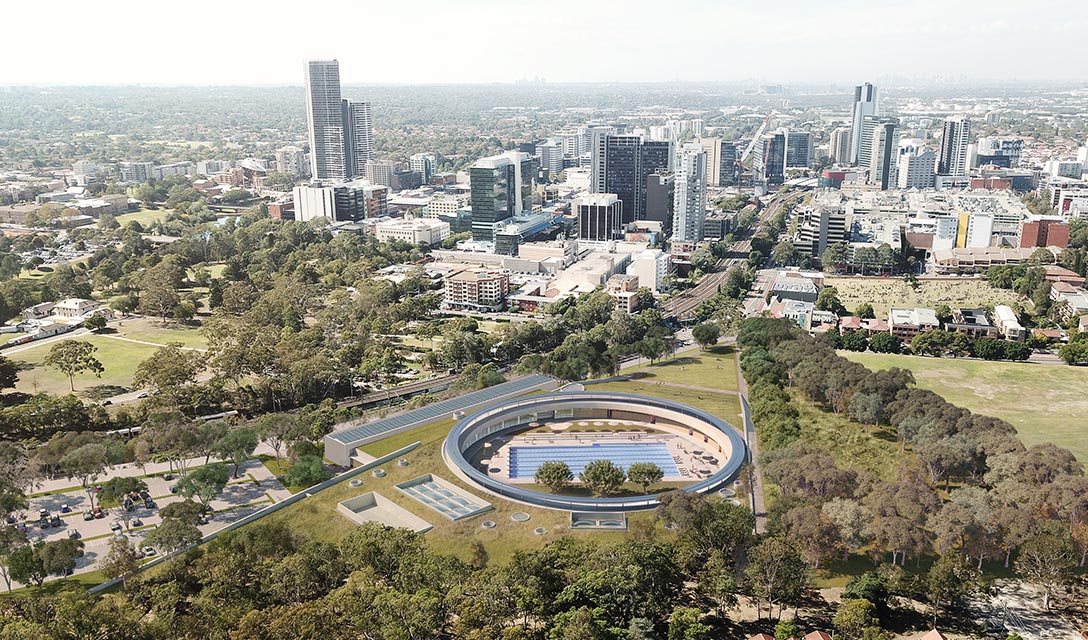 New fitness, wellness, and relaxation hub
Nestled in Parramatta Park's lush surrounds, the centre is located at 7A Park Parade, Parramatta. The Parramatta Aquatic Centre, or "PAC", will be a year-round destination for swimming, fitness and wellness, catering to the families, schools, workers, and visitors to the Parramatta LGA.
The facility sensitively integrates with the site's Parramatta Park surrounds. The striking ring enclosure, and primary identifying design element, takes inspiration from both the history of farm enclosures and river swimming enclosures along the Parramatta River.
Sustainably designed with state-of-the-art features, and with accessibility at the forefront of the planning process, the PAC will offer a safe and welcoming environment for people of all ages, abilities, interests, and backgrounds.
Natural and Sustainable Design
Located within Parramatta Park, the PAC has been uniquely designed to blend into the surrounding natural environment. Once complete, the building will be enveloped by native trees to provide shade and coverage, and the gabion wall veneer design consisting of stacked stone rocks will make it feel at one with nature.
The circular facility has been purposely designed with an open plan feel to deliver natural light and air flow. Skylights feature throughout harmful UV rays.
Whether you want to swim, workout, relax, enjoy a coffee, or bring the children for a play in the splash pool or enjoy our professionally supervised creche, the new Parramatta Aquatic Centre will be a vibrant multi-purpose hub of family-friendly activity.