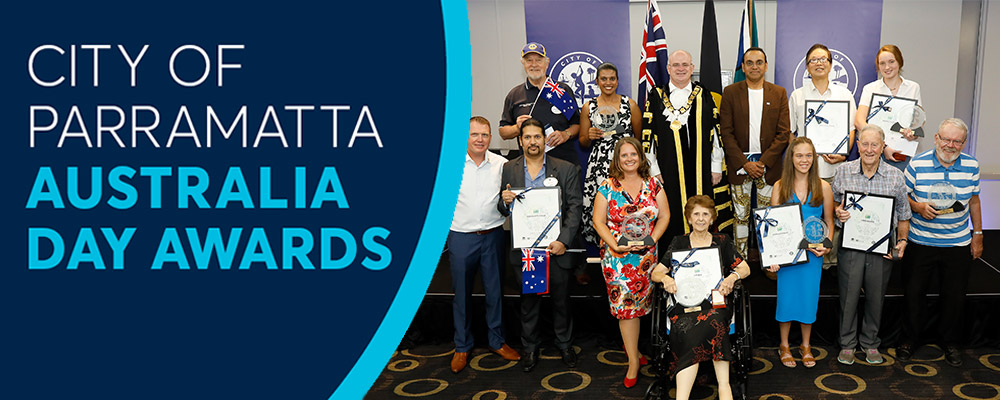 See photos from the 2019 Australia Day Award Ceremony
The Australia Day Local Awards recognise outstanding achievement and excellence in the local community, and highlights the importance of service to the Australian nation. 

Being nominated for an Australia Day Local Award is a great honour, and is therefore a wonderful opportunity to pay tribute to someone who makes you proud to be an Australian. There have been many remarkable nominees and winners over the years.

All residents are invited to nominate a member of the community whose exemplary contribution is deserving of recognition. This could be a friend, family member, workmate or someone you have met while serving the community.
Applications will soon open for the 2020 Australia Day Awards. For further enquiries, please email ausday@cityofparramatta.nsw.gov.au.
2019 Australia Day Award Winners 
Citizen Of The Year – Diana Mahony
Young Citizen Of The Year – Pariselle Hughes
Senior Citizen Of The Year – Annette Douglass
Volunteer Of The Year – Kellie Darley
Arts & Cultural Award – Yuting Zhu
Sports Achievement Award – Summer Giddings
Community Group Award – Lions Club of Parramatta Inc
Lord Mayor Humanity Award – Fritz Berchtold
Lord Mayor Community Service Award – Kevin Hession 
Categories
Citizen of the Year
Person who has made a noteworthy contribution to the City of Parramatta.
All individual nominees will be considered for Citizen of the Year.
Young Citizen of the Year
Person must be under the age of 26 as at 26 January 2019.
Senior Citizen of the Year
Person must be over the age of 55 as at 26 January 2019.
Volunteer of the Year
Person who has volunteered time to an organisation and/or fundraising cause.
Arts and Cultural Award
A person or group who have made an influential or valuable contribution to the city through the arts: e.g. Drama, visual art, music, verse, dance, cultural heritage, expression, literature, film, multimedia.
Sports Achievement Award
Person who has contributed significantly in the sporting arena, either as an athlete, coach, manager or who has raised the profile of sport in general.
Community Group Award
Local group or organisation which has provided the most outstanding contribution to the community. This includes projects and events.
Suggested criteria for nomination
Contribution to the City of Parramatta community
Demonstrated excellence in their field
An inspirational role model
Personal, academic and professional achievements
Sporting achievement
Contribution to Indigenous community
Contribution to local employment
Contribution to education
Contribution to local environment
Community service
Involvement with charities and fundraising
Volunteering
Awards and nominations received
Special achievements, e.g. acts of bravery, kindness or generosity
Eligibility
Nominees must be a resident of the City of Parramatta and/or have contributed significantly to the City of Parramatta community
Awards will not be granted posthumously
Sitting local, state and federal politicians are not eligible
No weight is given to the number of times a person is nominated
Conditions of Entry
Entry in these awards is open to all persons who are residents of the City of Parramatta and an Australian Citizen at the time of nomination.

Entry in the Community Award is open to all community groups based and operating in the City of Parramatta.

Nominations must be made on the official form. 

Nominations may be made by an individual or organisation.

You can nominate more than one group or individual, but a separate form must be used for each nomination.

Individuals cannot self-nominate.

Community groups may self-nominate.

All nomination information and materials submitted remain the property of the City of Parramatta Council.

The judging committee has the right to vary the category if a different category is more appropriate.

Past award recipients will not be considered in the same category again.

The judging committee's decision is final.