Each year we survey residents and businesses to understand how satisfied they are with Council's performance across 4 key categories as shown below.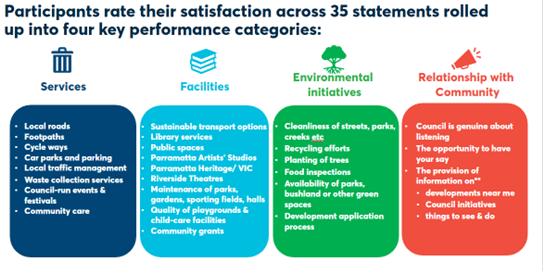 In 2022, we expanded our approach beyond phone surveys and made the survey available for all residents to complete by promoting it via our libraries, social media and newsletters. A total of 1,460 responses were received, of which 180 were businesses.
Given the change in methodology, the 2022 data can't be compared to previous years and will now set the new benchmark.  To view past results click here. 
Despite a challenging 12 months, with the impacts of Covid 19, natural disasters, cost of living stresses, and skill shortages; 53% of respondents remained satisfied with Council's overall performance. The infographic below summarises more of the key findings from the 2022 survey.
If you would like to take part in the 2023 survey which will open towards the end of the year, please register your interest at participate@cityofparramatta.nsw.gov.au