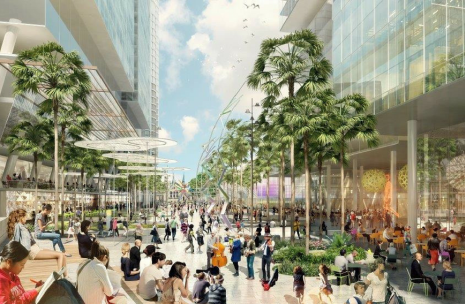 Parramatta Square is set to become a visionary, world-class landmark and destination in the heart of the Parramatta CBD.
The iconic new addition to the city skyline will showcase the best of civic and commercial design from internationally acclaimed architects, while incorporating smart city principles to deliver a dynamic and innovative environment for people who work, live and visit Sydney's geographical centre.
Darcy Street Changes
For updates on the Darcy Street changes please click here. 
8 Parramatta Square
With an increased demand for A-grade commercial space in the CBD, City of Parramatta Council has voted to allow developer Walker Corporation to put forward a commercial building option for the proposed 243-metre Aspire Tower at 8 Parramatta Square.
The revised approach will allow the lower floor plates of 8 Parramatta Square to link with the adjoining A-grade commercial building at 6 Parramatta Square, also to be developed by Walker Corporation. It's expected this will create a combined lettable area of 122,000 square metres, bringing the total commercial development in Parramatta Square to 250,000 square metres of prime A-grade office space.
The opportunity provided to Walker Corporation to pursue a commercial scheme included the following conditions precedent being met:
Achieving an acceptable development consent; and
Having an agreement for lease for 60,000 square metres (or 50% of the Net Lettable Area), with the following leasing milestones:

A minimum of 20,000 square metres of NLA to be committed within 12 months;
A minimum of 40,000 square metres of NLA to be committed within 24 months;
A minimum of 60,000 square metres of NLA (being satisfaction of the threshold pre-committed tenancy amount) to be committed within 36 months.
An Architectural Design Competition for the combined 6 & 8 Parramatta Square commercial scheme was undertaken consistent with Design Excellence Guidelines. The objectives of the design competition included:
Ensure that the proposal provides an iconic "anchor" to Parramatta Square that provides a sophisticated design response to the scale, significance and heritage setting of St John's Church and Parramatta Town Hall
Deliver 123,000 square metres of A grade commercial space with the potential to contain 10,000+ workers
Create a well considered and sensitive urban design that integrates the building with the surrounding future public space and city public domain
Achieve 5 star green star rating, 5 star NABERS Energy Rating and 3 Star NABERS Water Rating.
Three competitors were selected by Walker Corporation to participate in the competition, and the Competition Jury unanimously selected Johnson Pilton Walker as the winning architect.
A formal announcement will be made jointly by City of Parramatta Council and Walker Corporation shortly of the winning design.