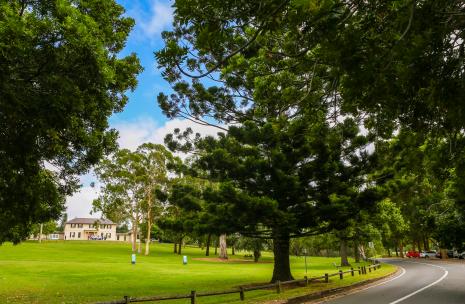 Trees play an important role in the 'greening' of our city. They make our surroundings pleasant, provide relief from summer heat and reduce glare from pavement. They also increase the value of real estate, reduce stormwater runoff and improve the quality of the air we breathe.
It is important to carefully manage this precious resource and to preserve the existing urban forest within our City. 
Before you prune or remove a tree from your residential or business property you must apply for permission from the City of Parramatta. Laws about pruning and removing trees on private land and City properties come under our Preservation of Trees or Vegetation Policy. 
Protected trees
Any tree, whether it's native or an exotic species, is covered under our policy, if it is listed in the Register of Significant trees or:
has a height of 5m or more
is on mangrove vegetation located on public land, irrespective of size
forms part of a heritage item, or that is within a heritage conservation area 
forms part of an Aboriginal object, or that is within an Aboriginal place of heritage significance
is listed on the NSW Heritage Register.
If a tree is identified as part of an ecological community listed under the Threatened Species Conservation Act 1995 then an "Assessment of Significance" must be prepared by a qualified ecologist and submitted to Council with your application.
Obtaining a tree Permit
If you want to prune or remove a tree you will need to submit an Tree Permit Application form. Additional information such as an arboricultural report may be required with your application. 
Applications can be made by all owners of the land on which the tree works are to be carried out or by any person with written consent of the owners.
If the tree being requested to be removed forms part of a development application you need to submit a Development Application.  

The application form must be completed and submitted to Council together with the appropriate fee. Approved works must be completed within two years from the date of consent.
Payment can be made with the accompanying Credit Card Authorisation Form.
Exempt trees
Certain trees do not require a permit or development application approval for removal or pruning.
You do not need to apply for a Tree Permit Application Form if a tree is considered to be dead, dying or posing an imminent risk to human life or property. City of Parramatta will issue a letter confirming the tree is exempt and tree works may be undertaken.
Any tree, irrespective of the height, is also exempt where the trunk of the tree at ground level is within 3m of an:
outside enclosing wall of a legally constructed building
outside edge of the footings of a legally constructed carport
outside edge of the coping of a legally constructed swimming pool.
List of exempt trees by botanical name
| Botanical Name | Common Name |
| --- | --- |
| Acacia baileyana | Cootamundra Wattle |
| Acacia decurrens | Green Wattle |
| Acacia saligna | WA / Golden Wreath Wattle |
| Acer negundo | Box Elder |
| Albizzia lopantha | Crested Wattle / Persian silk |
| Alnus jorullensis | Evergreen Alder |
| Ailanthus altissima | Tree of Heaven |
| Cotoneaster pannosus | Cotoneaster |
| Eriobotrya japonica | Loquats |
| Erythrina spp | Coral Trees |
| Ficus elastica | Rubber Tree |
| Gleditsia triacanthos | Honey Locust |
| Lagunaria patersonia | Norfolk Is. Hibiscus |
| Ligustrum lucidum & cvs | Large Leafed Privet |
| Ligustrum sinense | Small Leafed Privet |
| Melia azedarach | White Ceder |
| Nerium oleander | Oleander |
| Olea europaea var. africana | African Olive |
| Populus alba | White / Silver Poplar |
| Populus deltoides | White / Silver Poplar |
| Populus nigra | Black Poplar |
| Populus nigra Italica | Lombardy Poplar |
| Pyracantha augustifolia | Firethorn |
| Robinia pseudoacacia | False Acacia / Black Locust |
| Rhus toxicondendron | Rhus / Sumac Tree |
| Salix alba ssp.babylonica | Weeping Willow |
| Salix matusdana 'Tortuosa' | Tortured Willow |
| Schefflera actinophylla | Umbrella Tree |
| Schinus terebinthifolius | Brazilian Mastic / Pepper Tree |
| Syagrus romanzoffianum | Cocos Island / Queen Palm |
Also all edible fruit and nut trees except native species such as Acmena spp. (Lily Pilly), Syzygium spp. (Lily Pilly), Elaeocarpus spp. (Blueberry Ash) or Macadamia spp.(Macadamia Tree).
Trees listed as a noxious weed are also exempt. 
Where Exemptions do not apply
Exemptions do not apply where any tree:
is listed on the Register of Significant Trees
is located on a site classified as being part of a vulnerable, threatened or endangered ecological community or provides or has the potential to provide habitat for native fauna or fauna classified as vulnerable or threatened under the Threatened Species Conservation Act 1995 (NSW) or the Environmental Protection and Biodiversity Conservation Act 1999 (Commonwealth)
forms part of a heritage item or place
is within a heritage conservation area
forms part of an Aboriginal object
is within an Aboriginal place of heritage significance
is on public land.
Offset Program
When trees are removed, they should be replaced on the site with another tree however sometimes circumstances doesn't allow this to happen. In this case, a financial contribution will be required to be paid to support public tree planting.
Reviewing a decision
If you are dissatisfied with a decision you may request a review of the determination of the tree application. The review must be in writing to City of Parramatta or on the Review of Determination Application Form, together with the appropriate fee, and be lodged and determined within six months from the date you received your initial determination notice.
Blocked pipe or sewer
Tree roots that have entered a pipe and caused an immediate blockage can be removed. You will need to apply for a Tree Permit Application Form to remove the roots surrounding the pipe or if necessary, the entire tree. A comprehensive report prepared by a licensed plumber will enable Council's assessment process to be expedited.
You may prune or remove a populus sp (Poplar), Salix sp (Willow), Cinnamomum camphora (Camphor Laurel) and Liquidambar styraciflua (Liquidambar) without consent where the trunk of such tree is located within 5m of any sewer.
Suggested contractors 
We recommend you only use an Australian Qualification Framework (AQF) Level 3 qualified arborist to undertake any tree works. Look for a local registered aborist who is qualified and has insurance. 
Arboriculture Australia 
w: arboriculture.org.au
p: 1300 664 374 
e: enquiries@arboriculture.org.au
Tree Contractors Association:
w: tcaa.com.au
p: 1300 660 379 
e: admin@tcaa.com.au
 
Trees in your neighbour's yard
You also need to apply to the City before you prune overhanging branches, that meet the size requirements, of your neighbour's tree. Permission from your neighbour is not required, although we recommend you let them know as a courtesy that you want to prune their trees.