Now open, PHIVE, 5 Parramatta Square is the City's iconic community, cultural and civic building right in the heart of Parramatta's CBD. The state-of-the-art building, which extends over the original, heritage-listed Parramatta Town Hall, will create a modern connection with Parramatta's rich history.
PHIVE is a place for everyone to come together, chat, learn and be inspired. It will deliver world-class entertainment and cultural experiences and provide a new home for a significantly enhanced City library.
With its strong connection to the public space, PHIVE will surprise with its functionality, creativity and a programmable digital lighting system, drawing people day and night. 
 
A First Look at PHIVE, 5 Parramatta Square
Latest news
We are only months' away from opening PHIVE – Parramatta's iconic new cultural, hospitality and entertainment venue in the heart of the CBD. The final touches are now being put on the building's bright and bold façade, following the meticulous installation of 549 pre-assembled panels in five different shades of red and orange. 

PHIVE's tessellated roof not only brings a pop of colour to Parramatta Square, it's environmentally sensitive and will help regulate light, shade and ventilation inside the building. The giant louvres respond to the day's weather conditions and can automatically open and fill the building with fresh air and natural light as needed. Smart technology will also feature heavily in the new City Library, including an automated library book-sorting machine, self-checkout kiosks and self-return library shelves, plus smart furniture with in-built power and data charging points.

PHIVE is scheduled to open mid-year – stay tuned!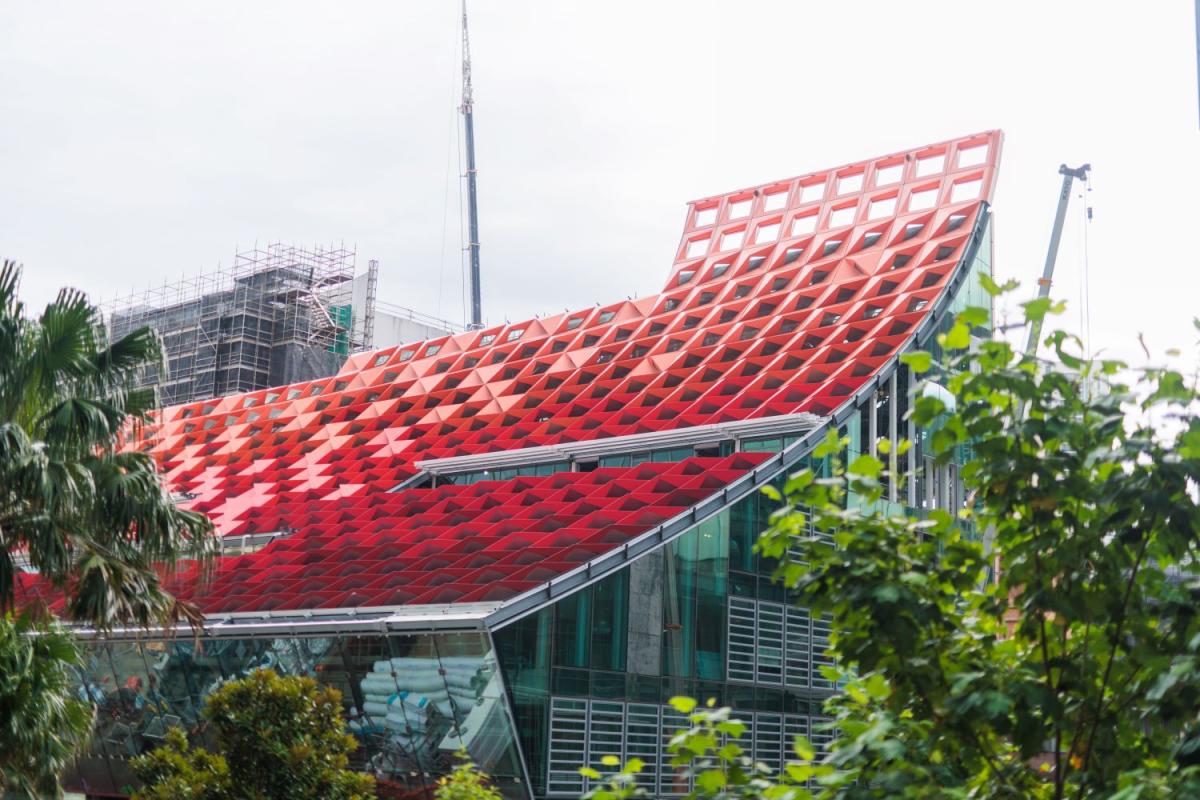 With an open, flexible layout, filled with natural light, PHIVE will offer a range of spaces and activities for the community to meet, lounge, read, collaborate, create and more.
The building will feature: 
A world-class public library at the forefront of technology, offering an extensive book collection, digital resources, 24/7 book return facility and dedicated study areas;
Discovery Space and cultural heritage displays, and an Aboriginal Keeping Place for the storage and care of local Indigenous cultural objects;
Heritage research services providing community access to Council's cultural collection, archives and cultural heritage programs;
Ground-floor foyer (the 'Urban Living Room') with concierge, visitor information, Council customer services and a cafe, as well as spaces for live performances and cultural activities;
Community collaboration and creative spaces where the public can create, experiment, study, work, meet, exercise, play, and engage with purpose-built maker and wellness spaces;
New state-of-the-art City of Parramatta Council Chambers.
PHIVE was inspired by nature - more than 549 unique tessellated façade panels in five vibrant copper tones across the roof draw colour inspiration on local flora and through light and shadow, produce patterns that resemble flower petals. 
The building's roof design also focuses on environmental performance. It achieves a low reliance on heating and cooling through sustainable design principles. Solar collectors on the roof will generate power, heating and hot water and the design allows for water harvesting. On completion, the building is targeting a 6-Star Green Star Design rating from the Green Building Council of Australia.

With its suite of smart tech features and key community facilities and spaces, PHIVE will become a landmark presence in Parramatta Square and a place that residents, visitors and workers will be of Parramatta will be proud to access and enjoy.