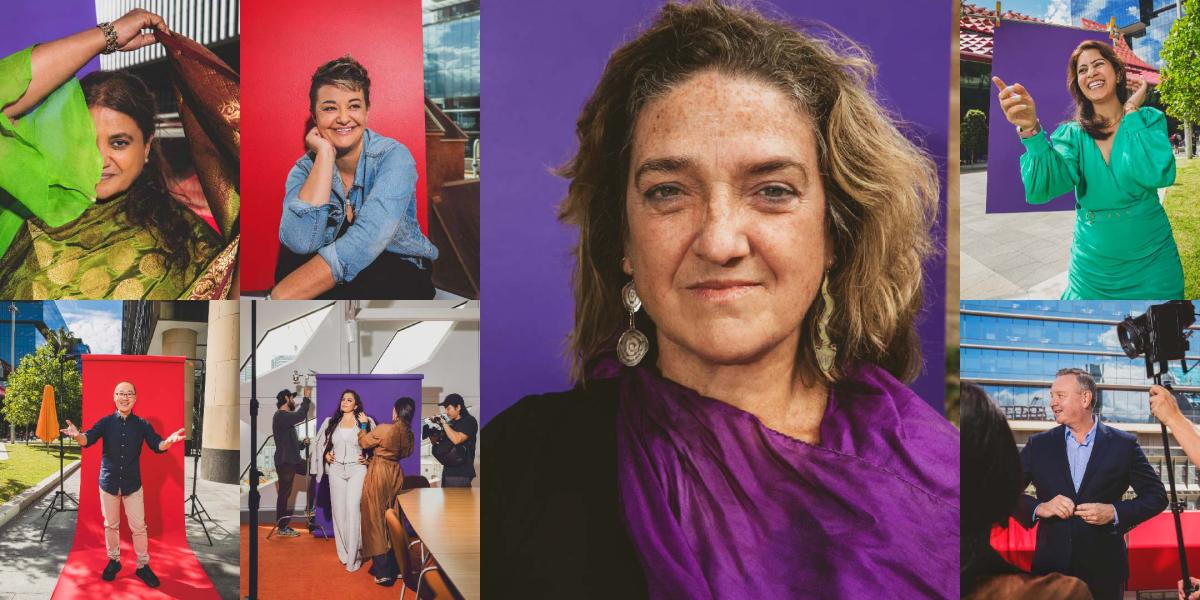 The people of Parramatta are being celebrated through a collection of photographic portraits, putting their diverse and dynamic stories at the forefront.
Community Love: A celebration of the people of Parramatta has opened at the City's community and civic hub, PHIVE, and tells the personal stories of migration, triumph over adversity, sporting achievements and volunteering through photography and digital technology.
The interactive exhibition features photographs of 18 local artists, educators, business owners, social entrepreneurs, conservationists, and volunteers, with a QR code so visitors can also see interviews, videos and blogs for each local identity.
City of Parramatta Lord Mayor Cr Sameer Pandey said the exhibition is a positive reflection of our community.
"This amazing Community Love exhibition proudly shows the past, present and future of our community through a vibrant display of portraits," Cr Pandey said.
"Parramatta is home to people from many backgrounds and this exhibition celebrates their incredible stories." From the days of the house on a quarter-acre block in the suburbs, to today's modern metropolis,
Parramatta continues to be a cultural melting pot that is helping transform Parramatta into the economic powerhouse it is today. Some of those featured in this exhibition have witnessed these changes over a few decades and are grateful for the opportunities the local area has presented them.
"Parramatta's a community that embraces differences but is also about creating unity and bringing people together," LGBTIQ+ community advocate and Community Love participant Cedric Yin-Cheng said.
"It's about diversity, it's about people with different beliefs, colours, origins and characteristics coming together to form this community we call Parramatta."
"Parramatta has given me the opportunity to chase my dreams and set my goals, and I've been fortunate enough to have accomplished a lot of things in life thanks to the community's support," NRL great, Peter Wynn's Score owner and Community Love participant Peter Wynn said.
Cr Pandey thanked those who had taken the time to tell their very personal stories to make the unique exhibition possible. "Don't miss this great exhibition. It's a chance to learn more about the inspiring, stories of our residents," he said.
"You might be inspired to start something new or seek out a new place to explore across our beautiful City."
Visitors can also have their portraits taken, in a similar style to those featured in Community Love, by using the photo booth available at the exhibition.
The exhibition opens at PHIVE, 5 Parramatta Square, Parramatta on 25 May, 2023.
To find out more atparramatta.com/community-love
For media enquiries please contact: City of Parramatta Council Media Team.
t: 02 9806 5965
e: media@cityofparramatta.nsw.gov.au