Have Your Say on the Draft Civic Link DCP
The City of Parramatta Council is moving forward with plans for the Civic Link, which will be a green, pedestrianised public space and cultural spine that connects public life from the heart of the Parramatta CBD to the Parramatta River. An important first step is the Draft Development Control Plan (DCP) for the Civic Link Precinct, which is now on exhibition so the people of Parramatta can have their say.

The draft DCP will identify and, over time, secure the space needed for the Civic Link's generous footpaths, big shady trees and network of public places, to meet the needs of our growing city.

Available for download:

Overview of Draft Civic Link DCP
The draft DCP will guide how the redevelopment of sites along the Link will contribute to this new public precinct. Importantly, landowners remain in control over their land, and the DCP only applies once landowners choose to modify their properties.

The draft DCP describes the arrangement of the Civic Link and how it will function as a whole. It identifies new public open spaces, streets, laneways and access to buildings, and provides further information on how future development should address the Civic Link and how future property amalgamations will work. The DCP will play an important role in ensuring the new Civic Link is active and vibrant, with opportunities for people to walk, sit, meet, and importantly enjoy the beautiful heart of our city.
The draft DCP applies to Block 1 (Parramatta Square interface), Block 2 (Horwood Place interface) and 4 (New Museum interface) of the CBD Civic Link Precinct. It will be followed by another DCP for Block 3, as well as further development of the public domain in the five distinct Civic Link Blocks.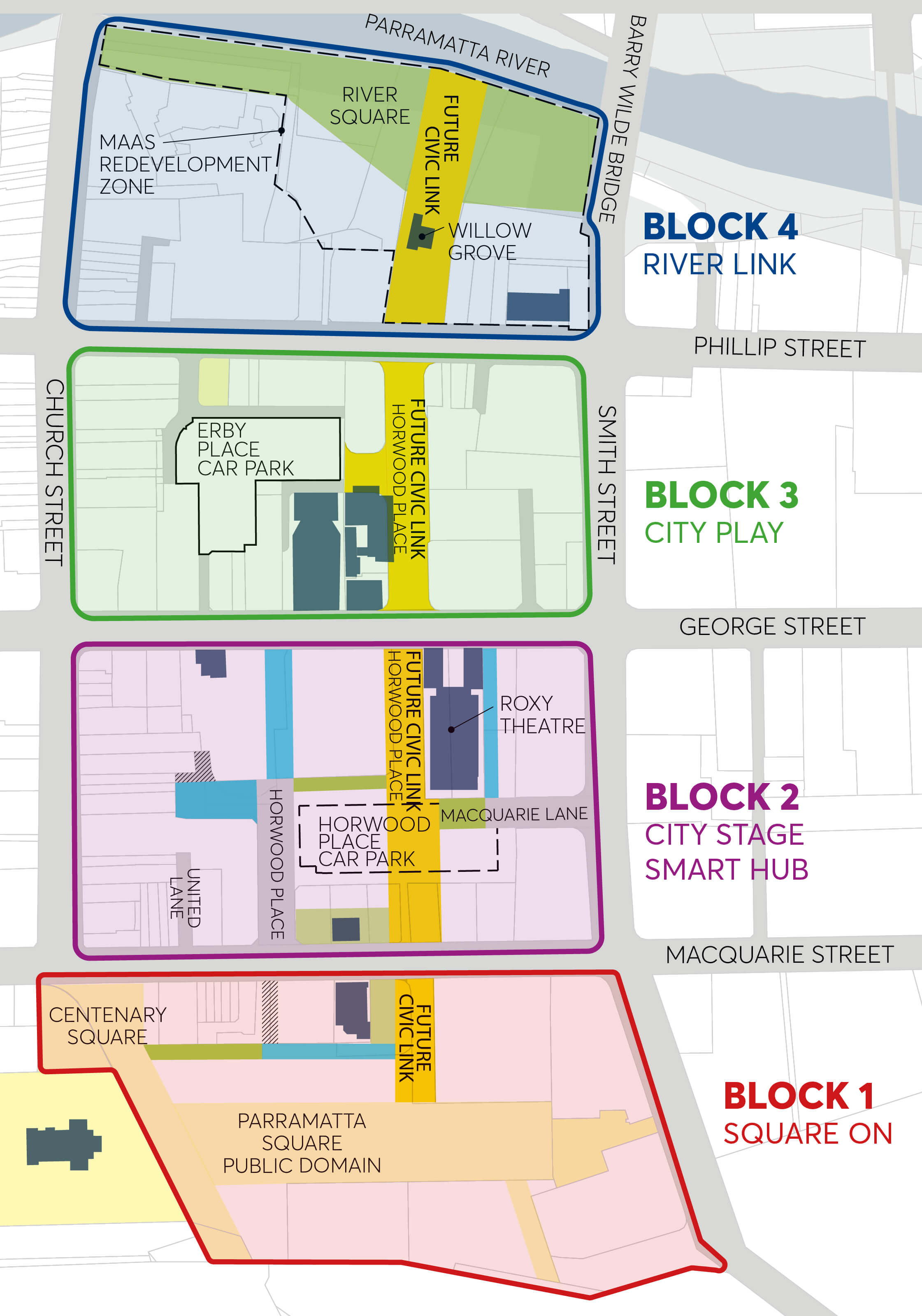 How to Have Your Say on the draft Civic Link Precinct DCP

We'd like to know what you think about the controls in the draft Civic Link Precinct DCP. 

You can access the full document here.

Or you can attend a drop-in session and talk to Council staff about what the draft DCP means for you.

Drop-in sessions are on at Parramatta Town Hall, Centenary Square, 182 Church Street Parramatta on the following dates:
Friday 3 May 12-2pm
Saturday 4 May 9-11am
Submissions can be sent to:

Chief Executive Officer
City of Parramatta Council
PO Box 32, Parramatta NSW 2124
Attention: City Transformation Team
Subject: Draft Civic Link Precinct DCP

Council will also accept email submissions sent to:

CityTransformation@cityofparramatta.nsw.gov.au, quoting 'Draft Civic Link Precinct DCP' in the subject line.

All submissions received by Council will be considered before a final decision on the Draft Civic Link Precinct DCP is made.

Any submission received may be made publicly available and may include the name(s), address, signature and contact details provided.

If you have any questions regarding the draft amendment, please contact Council's City Transformation Team on (02) 9806 5050.

Please provide your feedback by 4:30pm Thursday 16 May 2019.
Download the brochure:
Download frequently asked questions: