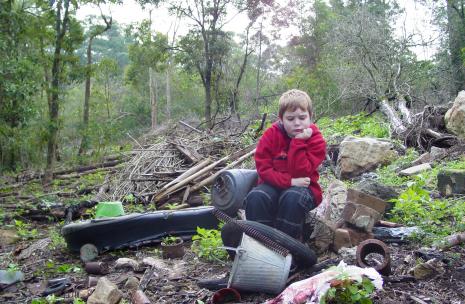 City of Parramatta is working hard to make sure that you can be proud of where you live but we need your help to stop illegal dumping of rubbish in our community. Illegal dumping is the placement of discarded rubbish, such as furniture, white and electrical goods or building materials, in common public areas.
Illegal dumping costs our community over $800,000 each year. Those found guilty of illegal dumping face fines of $750 to $250,000.
To help us keep shared streets clean:
put your rubbish out during quarterly City Clean-Up time. Check out the next collection date scheduled
report illegal dumpers on 1800 DUMPED (1800 386 733) or by online form
if you need rubbish collected outside of scheduled clean-up times, take it to the tip
consider donating or selling usable items before taking them to landfill
To reduce this problem, the Office of Environment & Heritage, along with partner councils, have formed two Regional Illegal Dumping (RID) Squads to focus solely on tackling the problem of illegal dumping. City of Parramatta partners with the Western Sydney RID Squad to target known rubbish dumping hot-spots and to keep our city clean. With the help of the RID Squad, City of Parramatta will continue to identify, investigate and, when necessary, prosecute illegal waste dumping offenders. The RID Squad monitors areas across Parramatta, including home unit development areas, shopping centres and industrial areas. Members of the RID Squad have similar powers to City of Parramatta officers; they can issue fines to residents caught dumping rubbish illegally.
Don't risk a fine; dispose of your rubbish thoughtfully.
Help City of Parramatta stop illegal dumping by reporting it:
p: Dob in a Dumper hotline 1800 DUMPED (1800 386 733)
p: Western Sydney RID Squad on 4732 7446
p: City of Parramatta on 9806 5544
Dob in A Dumper
City of Parramatta needs your help to stop illegal dumping in our City. City of Parramatta has initiated the Dob in a Dumper program, which encourages members of the community who witness illegal dumping to report it to City of Parramatta immediately.
You may be eligible for a reward of up to $1,000 if you can provide information that leads to the charging and conviction of an illegal dumper in court. To be eligible for the reward, you must be prepared to give evidence in court.
Report a dumper to City of Parramatta:
p: 1800 DUMPED (1800 386 733)
Any information provided will be treated in the strictest confidence.
The Dob in a Dumper reward scheme provides financial assistance to residents who agree to give evidence in court about illegal dumping and includes the following conditions:
The maximum payment is $1,000. City of Parramatta has jurisdiction to provide a lower financial compensation.
Any information leading to an infringement issued to an individual caught illegally dumping may result in a reward of $250.
City of Parramatta may decide if any payment should be made to an individual or be shared.
The claimant must provide information in writing and sign a document.
The claimant must be willing, if asked, to attend Court and act as a witness for the prosecution.
The claimant must provide ALL information regarding illegal dumping.
Information must be lawful. It must be unique and directly lead to a successful prosecution or an on the spot fine.
City of Parramatta will decide on the prosecution action it will take.
The reward payment will only be made when all procedures and legal actions are complete. This includes appeals and payment of the fine by the dumper.
City of Parramatta employees and their relatives are not eligible for the reward.