Aboriginal and Torres Strait Islanders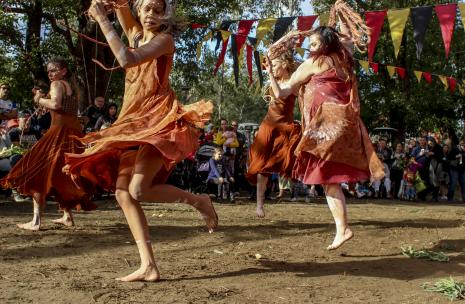 City of Parramatta acknowledges the Traditional Owners of this land, the Darug people.
For over 60,000 years, the area comprising present day Parramatta has been occupied by the Burramattagal people, a clan of the Darug, who first settled along the upper reaches of the Parramatta River. Burramattagal is thought to be derived from the Aboriginal word for 'place where the eels lie down' to breed (within the Parramatta River).
The Burramattagal have a close connection with the river, from which they caught fish, eels, and other food. Their stable, bark canoes often held a central small fire, built on a mound of soil, to cook up their fresh catch. 'Fire-stick farming', employed to burn vegetation to facilitate hunting and to change the composition of plant and animal species in the area, was also practiced by the Burramattagal people.
Soon after Governor Phillip's arrival with the First Fleet (of convicts from England) in 1788, Parramatta was developed as a farming settlement to feed the new English colony. This colonisation led to the immediate and tragic displacement of local Aborigines from the land that they had inhabited for thousands of years. Local Aboriginal groups led a resistance against the new settlers, with the most prominent warrior known as Pemulwuy. More of this history can be found in resources in Parramatta Library and Parramatta Heritage Centre.
The Darug people still populate the areas of Parramatta, Greater Western Sydney, La Perouse and the Blue Mountains. There are a number of Darug organisations and advisory committees that include active Darug people, as well as prominent Darug artists.
The Aboriginal and Torres Strait Islander Community
Parramatta has always been an important meeting place for Aboriginal people. In early colonial times, many Aboriginal people were brought to Sydney and Parramatta as an underpaid workforce in domestic service and building infrastructure. This migration resulted in a large Aboriginal population in inner-city Sydney and Western Sydney. Of note, Western Sydney has the largest Aboriginal and Torres Strait Islander (ATSI) population of any region in Australia.
Aboriginal people have a very close and special connection to a number of institutions in Parramatta, including the Native Institution, Parramatta Gaol, Parramatta Park, and the Women's Factory.
Many historical policies and initiatives were first implemented in Parramatta, which had major impacts on Aboriginal and Torres Strait Islander society. For example, the policies that led to the Stolen Generation began outside the Parramatta Town Hall in 1810 through the Assimilation Policy (1810-1825). The lasting effects of the Stolen Generation have been profound throughout Australia, and the consequences of which have rippled into the 1970s and present day generations.
Today, there are many ATSI people who work, live and play in Parramatta. Statistical information on Parramatta's Aboriginal & Torres Strait Islander communities, by suburb, is available by entering 'Indigenous' in the ethnicity section of the Community Atlas.
Community Care
As an Aboriginal or Torres Strait Islander person, over the age of 50, we would like to welcome you to the groups and services available through Community Care. Our team have been delivering one-on-one support and fun activities in the Parramatta Local Government area (LGA) for over twenty years. As registered providers for both the National Disability Insurance Scheme (NDIS) and Home Care, we can work with you to implement the activities and services you want and need day-to-day. This includes dining out at local participating restaurants, and groups like arts and crafts, choir, dancing, and painting. We also welcome ideas about how to integrate cultural activities into our programs. Find out more on the Community Care page.
Image supplied with permission from the ladies at the Harris Park Women's Group
Download