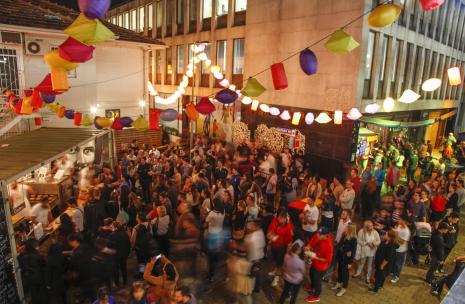 In response to the current circumstances presented by COVID-19, many events, services and facilities have been cancelled, postponed or closed.  City of Parramatta puts the safety of residents and visitors first. This decision has been made in the interest of public safety and in line with the advice provided by State and Federal authorities. 
Visit City of Parramatta's COVID-19 webpage for the latest updates
There's so much to see and do in Parramatta from ghost tours in historic sandstone building to the temptations of Eat Street to award winning events, such as Parramatta Lanes, and so much more.
Find out all that is on offer in Parramatta and its surrounds at the Visitor Information Centre. Our staff are available with information on Parramatta's heritage attractions, accommodation, venues for hire, restaurants, entertainment, shopping, walks and tours. Plus there is a range of free brochures and maps that you can take with you. 
A visit to Parramatta is not complete without a momento - the Visitor Information Centre Gift Shop specialises in quality gifts and souvenirs reflecting the region's unique colonial and indigenous heritage and diverse contemporary culture.
While at the Parramatta Visitor Information Centre enjoy the rest of the services provided in the Heritage Centre.
You can also explore what's happening in Parramatta by going to the Discover Parramatta website.
The Visitor Information Centre
346A Church St, Parramatta NSW 2150
p: 8839 3311
f: 8839 3301
e: discoverparramatta@cityofparramatta.nsw.gov.au  
Download our Visitor Guides