Swimming at Lake Parramatta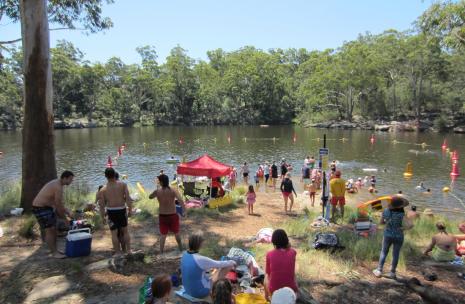 Due to the amount of rain over recent weeks contributing to poor water quality, Lake Parramatta is closed for swimming this weekend (25 - 26 March 2017) for public health and safety. Kayaking and boating are still available. We aim to reopen the lake to swimming as soon as it is safely possible.

Lake Parramatta is located in Lake Parramatta Reserve, a 73ha natural habitat (the lake is 10.5ha in size). The reserve is popular for visitors who enjoy picnics, aquatic activities and bushwalking. A kiosk is open on weekends.
Lake Parramatta Reserve offers a range of facilities:
Designated swimming area
Non-motorised boating facilities
Children's playground
Off-street car park
Walking trails
Public toilets
BBQs
Picnic facilities
Visitors kiosk
Lake Parramatta was officially re-opened for public swimming and water recreation activities in January 2015. Its reopening marked an important step for the 'Our Living River' initiative. Launched by the Parramatta River Catchment Group (PRCG) and spearheaded by 12 local councils, government agencies and community groups, the initiative proposes to set a range of achievable targets to bring currently unusable parts of the river and surrounding creeks back to life.
Entry into Lake Parramatta Reserve is from Lackey Street via Bourke Street North Parramatta. 
Safe Swimming at Lake Parramatta
Lifeguards are on duty every weekend from 29 October 2016 until 25 March 2017 (inclusive) as well as every day of the summer school holidays and all public holidays.
At all other times, visitors are advised to observe safe swimming practices and only swim in the designated swimming area.
Like most lakes or rivers around NSW, it is recommended that you don't swim for three days following heavy rain because of possible water quality issues. While Council has taken all necessary precautions to make swimming safe, it is important that people remember to look out for each other when swimming or boating. 
Water Quality
City of Parramatta Council manages a comprehensive water quality program to:
monitor the environmental status of Lake Parramatta
advise users about any changes in the lake's water quality conditions.
Transport and parking
Lake Parramatta Reserve offers 68 car spots on site. When the car park is full, parking is available on surrounding streets just a short walk way. 
If you are arriving by train, disembark at the Parramatta Interchange - you can then catch a bus from the Parramatta CBD (bus route 609). The bus stops 50m from the entrance to Lake Parramatta every hour, Monday to Saturday, and three times on Sundays. Alternatively, buses that travel along Windsor Road and Pennant Hills Road include stops about 500m from the Lake Parramatta entrance.
To plan your journey visit Transport for NSW or call 131 500.