Wentworth Point Community Centre and Library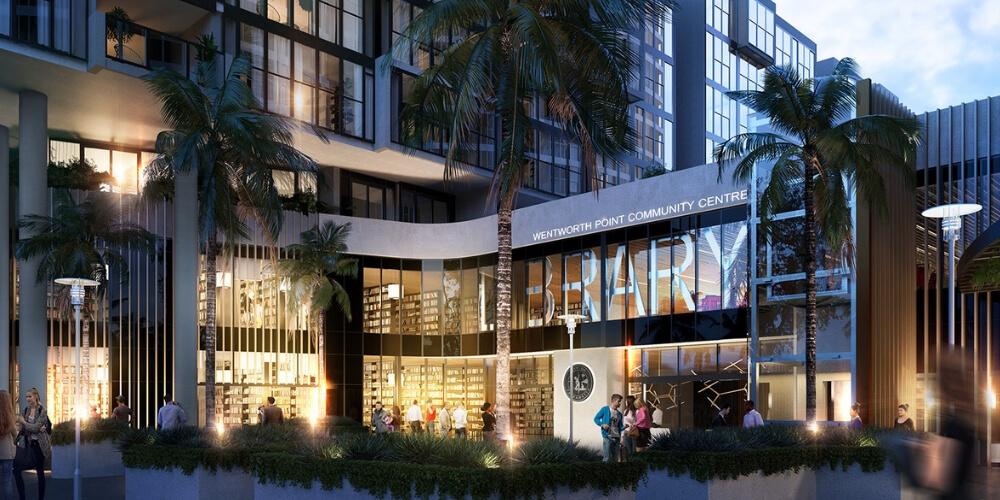 July 2019 Update
We are excited to announce that the new Wentworth Point Community Centre and Library (WPCCL) will open to the public in December 2019.

It will be a dynamic, multipurpose community hub, offering everything from a library service to a cafe, co-working spaces to an artist workshop.

The Wentworth Point and Newington communities have waited a long time for this exciting facility and we understand frustrations with the delay. City of Parramatta Council has been working closely with the developer Billbergia and our communities to bring this great development to life. Workers are currently putting the finishing touches on the WPCCL, which will open its doors before Christmas.
Facilities
Operated by City of Parramatta Council, the WPCCL will provide:
a contemporary library service including a learning lab/maker space and quiet study areas
flexible community meeting spaces
an artist exhibition and workshop space
music practice spaces
a microbusiness co-working space
a 24/7 foyer containing a library book vending machine, self-serve reservation pick-up point and return chute; and

a café to be operated by a social enterprise.
The WPCCL will complement the services provided by the Rhodes Connection and will have the capability to develop new program options based on its flexible layout and responsiveness to changing community needs. This accessible hub will further enhance the vibrancy, inclusiveness and wellbeing of the Wentworth Point and Newington communities. 
City of Parramatta will continue to provide updates and more information becomes available.
Meet our Library Staff And Find Out More At Our Marina Square, Wentworth Point Pop-Up Events In July and August.
Residents are invited to find out more about the planned Wentworth Point Library and Community Centre facilities, and to also pre-register for membership of the library at our pop-up at Marina Square, Wentworth Point on the following dates: 

- Tuesday 23rd July: 4pm – 7pm
- Saturday 3rd Aug: 10am – 1pm
- Tuesday 20th Aug: 4pm – 7pm
- Saturday 31st Aug: 10am – 1pm
As well as having our library staff on hand to answer questions and give information, other activities will include Saturday morning storytime, craft and colouring in, free used book give-aways and more!
More information
If you have any questions about the project, please email: wentworthpointlibrary@cityofparramatta.nsw.gov.au
Translated documents
Simplified Chinese and Korean translations of the Wentworth Point Community Centre and Library Update are available for download:
July 2019 Update
July 2018 Update
August 2017 Update
Project Background
City of Parramatta will deliver a Community Centre and Library for Wentworth Point, Newington and neighbouring communities. Located at 2 Waterways Street (Corner Footbridge Boulevard) Wentworth Point, the Community Centre and Library will be part of a high-rise residential and commercial complex.
The communities of Wentworth Point and Newington have grown substantially since initial plans were discussed, especially at the northern end where the facility will be located. The Community Centre and Library will offer a range of valuable and essential services designed to cater to the diverse needs of our residents.
How to stay updated
Council is committed to working with the Wentworth Point and Newington community and will provide regular updates on the project as it progresses.
If you have any questions about the project, please email: wentworthpointlibrary@cityofparramatta.nsw.gov.au