Parramatta Artists Studios
Parramatta Artists Studios contains fourteen non-residential studios and 1 residential studio and focuses on contemporary artistic practice including painting, sculpture, film and digital media. Parramatta Artists Studios contributes to the broader community through an annual program of events, workshops and arts activities. Activities revolve around the making, learning and sharing of contemporary arts in all its forms. 
Parramatta Artists Studios is an Initiative of the City of Parramatta and is supported by the NSW Government through Arts NSW.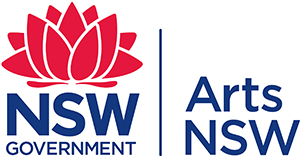 Artist Elena Papanikolakis in her studio at Parramatta Artists Studios, 2015. Photo: Alex Wisser
Khadim Ali, Cigdem Aydemir, Kate Beckingham, Harriet Body, Penelope Cain, Kalanjay Dhir, Emma Fielden, Caroline Garcia, Annie McKinnon, Anna McMahon, Catherine O'Donnell, Marikit Santiago, Salote Tawale, Shireen Taweel, Hannah Toohey and Garry Trinh.
Artist Hannah Toohey in her studio at Parramatta Artists Studios, 2016. Photo Alex Wisser.
Get in touch. We'd love to hear from you.
e: studios@cityofparramatta.nsw.gov.au