Development application information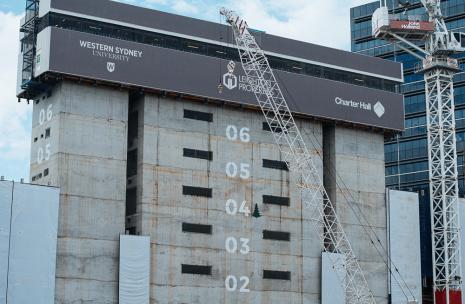 Before you can make changes to a building in the local area you may need to lodge a development application (DA).

The Environmental Planning and Assessment Act 1979 defines development as:
the use of land
the subdivision of land
the erection of a building
the carrying out of work
the demolition
any other matter controlled by an environmental planning instrument.
Please note that Planning approval has been granted by the State Government for the Parramatta Light Rail project, which will run along Church Street. Further information in relation to the Parramatta Light Rail project can be found at www.parramattalightrail.nsw.gov.au
If you're looking to purchase property in the area, use DA Tracker to gather useful planning information.
DA Process Guide
The New South Wales Government has a comprehensive guide to the Development Application process. The guide explains the processes involved in development assessment and construction approval.
For more information on the guide, go to the Department of Planning and Environment website.
General Planning Advice
To access this service please call the Customer Contact Centre on 02 98065524 or 1300 617 058 or email council@cityofparramatta.nsw.gov.au to arrange a response from one of our Town Planners. These requests will be responded to within 48 business hours. Face to face or remote meetings with Planning Advisory staff are by appointment only.
Subdivision Certificate, Endorsement of Section 88B and Endorsement of Section 88E Applications
From Monday 1 June 2020 Subdivision Certificate Applications and Applications for Endorsement of Section 88B and Section 88E Instruments can now be submitted at Council's Customer Service Centre at 126 Church Street Parramatta between 9am and 3pm Monday to Friday.
Alternatively you can still forward your application by post to PO Box 32, Parramatta, NSW 2124.
A separate payment request will be sent when the lodgement of an application, sent by post, has been accepted by Council, if payment has not been provided.
Please note: All applications being lodged at Council or by post must be accompanied by a completed application form, together with all documents required on the associated checklist and a USB or CD containing digital copies.
Subdivision applications must include Deposited Plan Administration Sheets completed by a Registered Surveyor, Subdivision Plans and any associated Section 88B Instruments.
Section 88E Instrument applications must include completed 13PC and 13RPA forms and their associated annexures.
Please ensure that the above documents are originals, that they are legible, and are submitted unfolded without any marks or creases. It is recommend that subdivision plans are submitted in a mailing tube or similar.
Please do not email Subdivision Certificate or Endorsement of Section 88B or Endorsement of Section 88E applications to Council. Council requires a physical application with original documentation to be made and accepted, for your application to be processed.
IMPORTANT NOTICE: Due to the current situation with respect to COVID-19 development applications can no longer be lodged over the counter or via post. All applications are required to be lodged through the NSW Planning Portal.

To lodge with the NSW Planning Portal, you will need to first register an account with the portal. After registering, you will be able to lodge the application and then follow the prompts to upload the required information and documentation. The portal can be accessed from the Planning Portal website.
All DAs lodged with the City of Parramatta will be initially processed as a "Development Lodgement application". For online lodgements, all initial correspondence will be through the NSW Planning portal, including notification of acceptance or return of an application, and a notification of what fees are to be paid and how that payment can be made.
To assist you in preparing your development application visit Development and Building Forms for further details and requirements. The form is not required for lodging the application through the NSW Planning Portal , however please use the relevant pages of the form to confirm and upload ownership details. The form should also be used to upload a completed Stormwater checklist as detailed in the application form.
Development Lodgement Applications
The Development Lodgement process is as follows:
1. Customer collates the documentation and information required for their application (DA, Section 4.55 or Section 8.3). Hard copies of plans or any other documents are not required at this stage.
2. Customer lodges the application:
Online via the NSW Planning Portal
There is no fee payable at this stage. Do not send in cheques with applications.
An acknowledgement letter will be issued.
Hard copies of plans or any other documents are not required to be submitted.

Online – all documents and plans are to be uploaded to the portal.
3. Council will review the documentation within 72 business hours of receipt of the application (working days). The customer will be contacted for the following:
Acceptance of the application and request for fee/s to be paid, or
Return of the application with a request for additional information to be provided.
4. If the application is accepted, a fee payment request will be forwarded through the portal alongwith any additional information requirements.
5. When the required fee/s is paid, the application will then be lodged as a Development Application, Section 4.55 modification and assessment of the application will commence.
Booking a lodgement advisory meeting
If you have received a returned Development Lodgement letter. There is an option to book a free 30-minute Lodgement Advisory meeting to discuss only the contents of the letter. In case, you have any engineering issues raised within the returned letter, your consultant engineer is required to be present at the meeting. For booking your preferred time and date for the meeting please visit Book Lodgement Advisory Meeting.
Note:
Please be aware that Credit Card Authorisation forms are not acceptable for payment of Development application, Section 4.55 or Section 8.3 application fees, this will need to be done either through a cheque, over the counter payment or using the online payment portal.
DA Tracker: Find out more about development applications
View City of Parramatta's planning instruments, find out what types of developments are permissible on individual properties, view our planning controls and instruments and track your application online via DA Tracker. You can also access general information about individual properties in the local government area. Buying information
If you're looking to purchase property in the area, use DA Tracker to gather useful planning information including:
property zoning, maximum building height, floor space ratio, minimum lot sizes for subdivision and dual occupancy and more.
planning application history for a property
planning rules for developments for a specific property or land use zone
Renovating and building
Use the Planning Rules enquiries section in DA Tracker to find out if you can undertake the work on your property, whether you need approval from the City and what planning controls apply to your development.
Submitted an Application?
Track it in DA Tracker to view your:
development applications
construction certificates
complying development certificates
building certificates
tree applications.
Major developments
Before you prepare a DA for a major development such as a new building or major refurbishment, please contact the Development Advisory Team or Customer Contact Centre at the City to discuss your proposal.
e: council@cityofparramatta.nsw.gov.au
p: (02) 9806 5050
In person at City of Parramatta, 126 Church Street Parramatta NSW 2150
Exempt and complying developments
Some minor developments, called exempt developments, do not require consent. Another type of development, called complying development, requires a complying development certificate.
The Department of Planning and Environment provides information about development that can be undertaken without planning approval from the City as 'exempt' or 'complying' development. This includes an interactive building tool which shows the changes you can make to a property without planning or building approval.
Review of Determination of a Development Application (Section 8.3)
If you wish to review the determination of development application, generally in reference to a DA that has been refused by Council, this needs to be lodged and determined within 6 months of the date of determination of the application. Please note that a Review of a Determination must be determined by the Parramatta Local Planning Panel (PLPP).
Note: It is advisable to submit review applications within 3 months of the determination of the application, otherwise Council will not have adequate time to assess the application and refer the application to the PLPP for determination prior to the 6 month deadline.
If you wish to review a modification (Section 4.55), this must be lodged with Council no later than 28 days after the modification was determined. (Environmental Planning & Assessment Regulations 2000 Clause 123I)
Downloaded the Application form for Review.
Modifying a development consent
If you need to make changes to a DA after City of Parramatta has given consent there are several ways to do this.
to correct a minor error, an incorrect description or miscalculation, a section 4.55(1) application is required
for minimal environmental impact changes, a section 4.55(1A) application is required
to modify the consent in other ways, due to design changes for example, evidence needs to be provided that the development will be substantially the same, with a section 4.55(2) application.
to modify a consent handed down by the Land and Environment Court, a section 4.56 application is required
Section 4.55 and 4.56 applications also need verified consent from all of the registered property owners for the changes to be considered. If a company owns the property, the company stamp or seal is required. If the building is subject to a strata scheme, the owners' corporation seal and authorised signatures are required.
Further requirements
A section 4.55/4.56 application needs to include:
the completed form (download below)
fee payment
supporting documentation.
Additional information may still be required. We recommended discussing your proposed changes with the City's officer who dealt with you DA to discuss the modification before it is lodged.