Locations and Opening Hours
You can visit City of Parramatta Library and the Branch Libraries during the opening hours below.
Justice of the Peace Services are also included below and vary for each library. This is a very popular, voluntary service and we advise you contact the Library before you arrive and allow 30 minutes before the end times listed.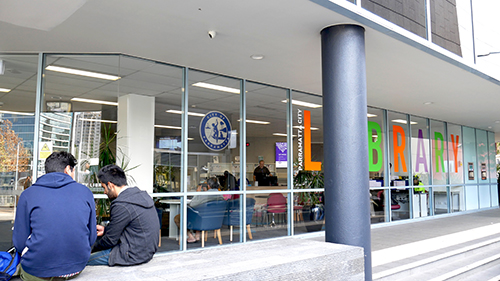 CITY OF parramatta LIBRARY

 

1-3 Fitzwilliam Street, Parramatta NSW 2150  View Map
p: 02 9806-5159
p: 02 9806 5150 (Home Library Service)
f:  02 9806-5919

Library Opening Hours:
Monday - Friday: 9.30am - 8pm
Saturday: 9.30am - 4pm
Sunday: 2pm - 5pm

 
Justice of the Peace Service*

Check here for times or contact the library to check availability

 

Carlingford Branch Library
Lloyds Avenue, Carlingford NSW 2118 View Map
p: 02 9806 5850
f: 02 9638-1146
Library Opening Hours
Monday: 10am - 7pm
Tuesday, Wednesday, Thursday, Friday: 10am - 5.20pm
Saturday: 10am - 1pm
Justice of the Peace Service*
Check here for times or contact the library to check availability
Constitution Hill Branch Library
Emma Crescent Shopping Centre, 20 Hollis Street, Constitution Hill NSW 2145 View Map
p: 02 9806 5500
f:  02 9896 2201
Library Opening Hours
Monday, Thursday: 10am - 8pm
Tuesday, Wednesday, Friday: 10am - 5.30pm
Saturday: 9.30am - 12.00 noon
 
Justice of the Peace Service*
Check here for times or contact the library to check availability
Dundas Valley Branch Library
Sturt Street, Telopea NSW 2117 View Map
(opposite Telopea Public School) 
p: 02 9806-5960
f: 02 9638-1146
Library Opening Hours
Monday, Thursday: 10am - 8pm
Tuesday, Wednesday, Friday: 10am - 5.30pm
Saturday: 9.30am - 12.00 noon
Justice of the Peace Service*
Check here for times or contact the library to check availability

Epping Branch Library
Chambers Court, Epping NSW 2121 View Map
p: 02 9806-5843
Library Opening Hours
Monday - Friday: 10am - 9pm
Saturday: 9.30am - 12.00 noon
Sunday: 2pm - 5pm
Justice of the Peace Service*
Epping JP opening hours vary. Check here for times or contact the library to check availability
Ermington Branch Library
River Road, Ermington NSW 2115 View Map
(behind Ermington Shopping Centre)
p: 02 9806-5869
f:  02 9638-2270
Library Opening Hours
Monday, Thursday: 10am - 8pm
Tuesday, Wednesday, Friday: 10am - 5.30pm
Saturday: 9.30am - 12.00 noon
Justice of the Peace Service*
Check here for times or contact the library to check availability
Local Studies/Family History Library
Newington Library
Address: Avenue of Europe and Avenue of Asia, Newington Library View map
p: 02 9806 5842
Library Opening Hours
Thursday: 2pm - 6pm
Saturday: 9am - 12.00 noon