Aquatic Leisure Centre - Frequently Asked Questions (FAQs)
1. Why is the City developing a new aquatic leisure centre?
The City of Parramatta Local Government area is changing. Our community is expected to double in size to almost 400,000 residents in 2036. As one of the fastest growing regions, our City needs a new, contemporary aquatic leisure centre to meet community needs now and for many decades to come.
Aquatic and leisure facilities play an important role in providing health and wellbeing benefits for our community across all age groups. Everyone, from children to seniors, people with a range of abilities, backgrounds, skills and interests enjoy our centres. They're a lively part of our city and act as a meeting place for a diverse and interactive community.
The aquatic leisure centre project is being delivered by the City of Parramatta Council in partnership with the NSW Government and Parramatta Park Trust. The new aquatic leisure centre is expected to open mid 2020.
2. Why was the Parramatta War Memorial Swimming Pool closed?
The Parramatta War Memorial Swimming Pool, a much loved traditional outdoor-only facility, was closed in March 2017 to allow for the development of the new Western Sydney Stadium. The new, larger stadium will require a greater surrounding radius, including circulation zones for pedestrian and emergency vehicle access. 
More information on the NSW Government's project to deliver the new Western Sydney Stadium can be found at Infrastructure NSW. 
3. Where can we swim in the meantime?
City of Parramatta continues to provide a number of opportunities for swimming and cooling off. Epping Aquatic Centre has extended its swimming season this year on a trial basis and will remain open during the winter months. Extensive renovations and equipment upgrades have allowed community access for swimming lessons and lap swimming to continue year-round. Squad training also continues throughout the year.
Council has made a substantial investment in upgrading facilities at Macarthur Girls High School. From Monday 13 August 2018, Macarthur Girls High School Pool will be open to the community for lap swimming, with Learn to Swim classes beginning from Monday 3 September 2018. There is no recreational swimming available at this site. 
Visitors to Lake Parramatta will notice a larger designated swimming area and upgraded facilities including a viewing platform and picnic areas. Council provides lifeguard services throughout the summer school holidays and weekends.
Free water play continues to be available at James Ruse Reserve (Parramatta), Phillip Ruddock Water Playground (Dundas Park) and the Centenary Square fountain.
A number of other non-council managed aquatic facilities are also accessible, including Sydney Olympic Park Aquatic Centre, Merrylands Swimming Pool, Wentworthville Swimming Pool, Granville Swimming Pool and others.
For more information about other options (including nearby local government areas) for cooling off, learn-to-swim classes and lap swimming, visit the City of Parramatta Council's Swimming pages.
4. Where will the new aquatic leisure centre be located?
The Mays Hill Precinct within Parramatta Park has been confirmed as the preferred location for the new centre. It will sit on between 2 and 2.5ha on the eastern portion of the former golf course, adjacent to Park Parade near the corner of Pitt Street. This location was decided as part of a comprehensive master plan and community consultation on the 20ha Mays Hill Precinct.
Part of the design brief for the new centre is to respect the open space and heritage values of the parkland. The preferred site area will be slightly smaller in size to the former Parramatta War Memorial Swimming Pool.
For more information, see the Mays Hill Precinct Master Plan on the Parramatta Park website.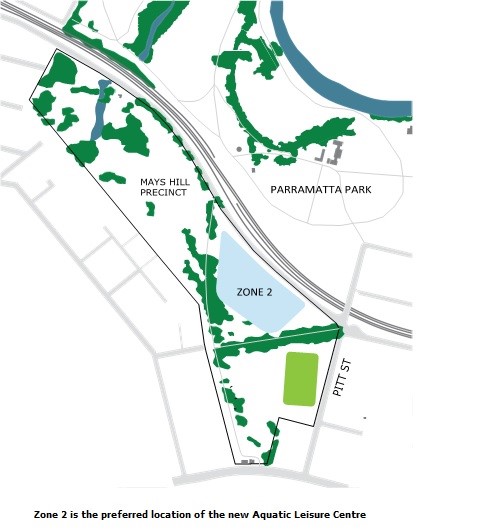 5. What will the new aquatic leisure centre look like?
Following Council's decision in February 2018 to endorse the business case, City of Parramatta is developing concept schemes through a design excellence competition. A jury has been appointed to ensure design excellence is achieved with a leading and experienced design team.
Following selection, detailed design and planning approvals will be sought in late 2018 with construction expected to commence in early 2019.
For details of the key facilities, see the Aquatic Leisure Centre Project Background page.
6. When will the new aquatic leisure centre open?
Work is progressing to deliver Parramatta's new aquatic leisure centre. While Council is fast-tracking the project, this large program of works is subject to a number of factors outside of its control. 
Council continues to work closely with Parramatta Park Trust, NSW Government and other stakeholders to deliver the project as soon as possible. Council will continue to work with its partners, stakeholders and planning authorities on timely completion of early works such as archaeological and geotechnical investigations, planning processes and applications, and provision of utilities and services.
The new aquatic leisure centre is expected to open mid 2020.
7. What's happening now?
From July 2018, site fencing and sheds will be installed and utilities will be connected. The temporary fencing will enclose an area slightly larger than the space dedicated to the final centre. This will allow for a safety zone to be created while archaeological and geotechnical investigations take place and allow access for equipment required for construction of the aquatic leisure centre. 
Detailed design and planning approvals will be sought in late 2018 with construction planned to commence in 2019.
8. Where can I find more information?
See the More Information page.
9. How do I have my say?
See the Have Your Say page.