City of Parramatta green programs win gold at the Local Government NSW Awards
Two of the City of Parramatta's innovative environmental sustainability programs have been recognised at the 2022 Local Government NSW's Excellence in the Environment Awards.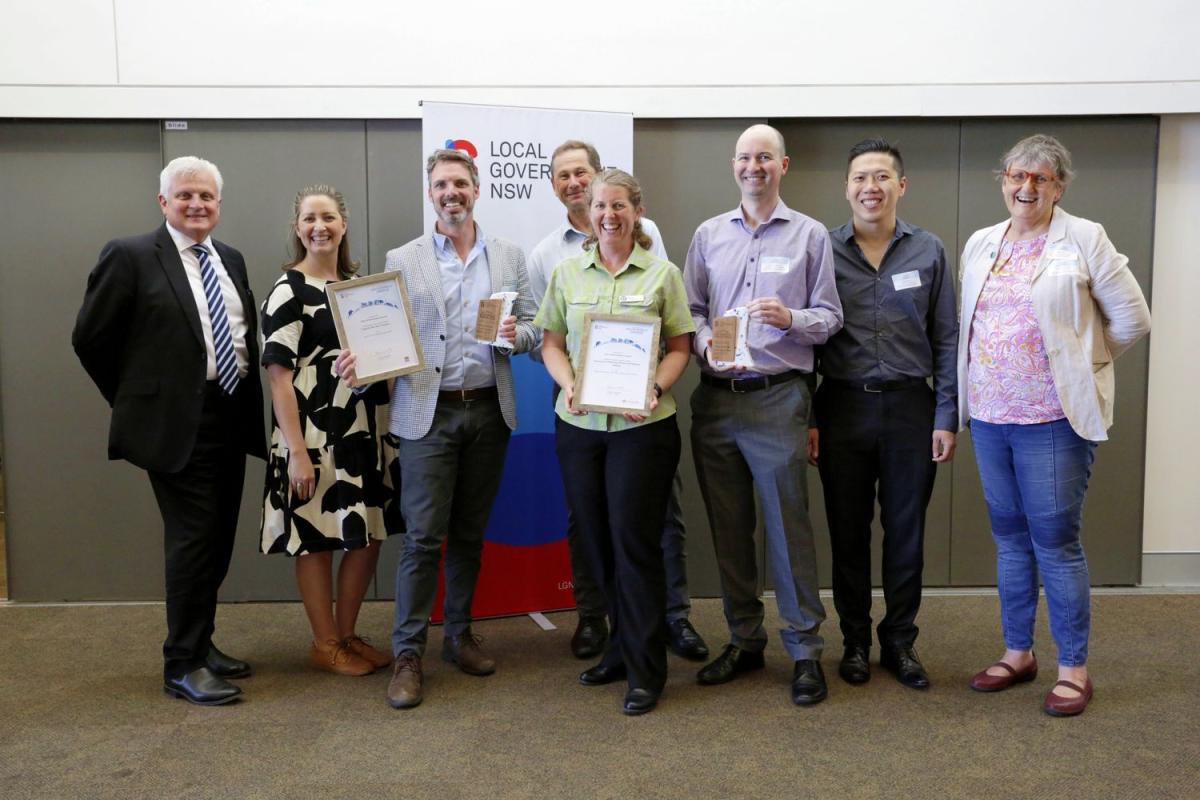 Our 'Electric Vehicles: Driving a Sustainable Future' program took out the award for Innovation in Planning, Policies and Decision Making, while the 'Smart LED Streetlighting Project' won the Towards Net Zero Emissions category.
These exciting projects, created as part of the City's Environmental Sustainability Strategy demonstrate City of Parramatta's leadership in environmental planning and performance and have already delivered benefits to our community including reducing emissions, pollution, and creating new economic opportunities for our City.
Learn more about these projects.
 
---
Net-zero commitments are driving a world-wide electric vehicle (EV) transition and the City of Parramatta is fuelling change locally by implementing a wholistic approach that will make Parramatta and Western Sydney future-ready.
Transport makes up around one third (around 5.8m tonnes) of Western Sydney's total emissions, with passenger vehicles accounting for half of that figure. Solutions to reduce these emissions include improved public transport and walking and cycling connections, with electric vehicles being an alternative when public and active transport is not possible.
EVs will lower the region's emissions, reduce pollution, help lessen the impacts of climate change and create new economic opportunities. Our actions include:
Figure 1: Descriptions of the four main types of EVs. (Source: Western Sydney EV Roadmap)
Western Sydney EV Road Map

Council has partnered with the Western Sydney Region Organisation of Councils (WSROC) and seven other Western Sydney councils to develop the Regional Western Sydney Electric Vehicle Roadmap. The plan sets ambitious 2030 targets for transitioning the region to electric transport. Aligned with NSW government targets, the plan includes:
at least 50% of council fleets transitioned to EV
100% buses to be zero emissions
50% of all taxis, car shares and ferries to be zero emissions.
 

Figure 2: EV transition milestones (2022-2023). (Source: Western Sydney EV Roadmap)
EV-Ready Planning Controls

The City of Parramatta is introducing EV-ready controls through growth centre Development Control Plans (DCPs). These new controls mandate the provision of essential EV infrastructure to future- proof new buildings and ensure that residents can easily transition to electric vehicles.
Without EV essential infrastructure, the future installation of charging facilities by an apartment owner can be much more expensive and, in some cases, technically impossible.
EV-ready controls are included in the recently adopted Telopea and Melrose Park DCPs and are included in the Draft Parramatta CBD DCP.  
For more information see https://participate.cityofparramatta.nsw.gov.au/cbd-planning
EV Charging Infrastructure Guidelines

City of Parramatta has developed guidelines to help facilitate the future network of EV charging infrastructures on Council land. The guidelines will ensure that providers are aware of Council's requirements and expectations when EV charging infrastructure is proposed within the Parramatta LGA.
For more information see https://participate.cityofparramatta.nsw.gov.au/electric-vehicle-charging

Council has installed 3 new Electric Vehicle (EV) charging stations covering 6 parking spots at Parramatta Station Car Park (Wentworth Street). The new stations are located on the ground floor within designated EV car spaces. Drivers will be able to charge their car using dedicated 22kW, Type 2 chargers. The chargers are universal and can be used to charge most cars including Teslas. Charging at Council's EV stations is included in the parking fees.
Council has also installed an EV charger at the Rydalmere Operation Centre available for fleet vehicles to use.
Through the Australian Government, ARENA funding will provide additional EV fast chargers within the local government area in 2022.
For more information see https://www.cityofparramatta.nsw.gov.au/living/parking-and-transport/car-parks

Leading by example, Council's fleet includes 25 hybrid passenger vehicles (Toyota Camry, Corolla and RAV4, and Suburu XV), 90% with CO2 emissions of less than 110 g/km.
In 2020, Council reviewed the opportunities and costs of transitioning Council's fleet to low carbon and electric vehicles. Council now implements a calculation process that compares total cost of ownership of standard (internal combustion engine) vehicles against electric vehicle (EV) options to assist in determining the business case for each new fleet passenger vehicle.
Council has installed an EV charger at its Rydalmere Operation Centre available for fleet and visitors to use.
Justice Precinct Car Park goes solar
The first of its kind for Council, the new 30KW solar panel canopy on the rooftop of Justice Precinct Car Park provides shade and weather protection to vehicles and reduces radiant heat impact. It will also reduce the site's electricity consumption by around 40% and provides for the installation of EV charging infrastructure in the future.