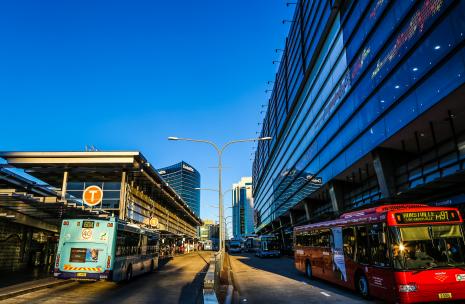 Parramatta CBD is easily accessible by train, bus and RiverCat, while the Parramatta Transport Interchange provides a gateway to Western Sydney by linking rail services with the Western Sydney Transitway Network, local buses and other transport services.
City of Parramatta manages parking, facilitates bicycle access and encourages the use of public transport within the city. Commuters and visitors can also travel around the city centre on the free shuttle bus or by foot. In addition, Parramatta has two car share locations to help those who do most of their travel by public transport but occasionally need a car.
By promoting multiple methods of public and shared transport, City of Parramatta and the NSW Department of Environment and Climate Change are helping to reduce Parramatta's greenhouse gas emissions.
Transport for NSW services
Transport for NSW offers services throughout the state, including train, bus and ferry services in the local Parramatta area:
Sydney Trains
Western Line (Clyde, Granville, Harris Park, Parramatta, Westmead, Wentworthville)
Blue Mountains Line (Granville, Parramatta, Westmead)
Cumberland Line (Westmead, Parramatta, Harris Park, Merrylands, Guildford)
Carlingford Line (Clyde, Dundas, Rydalmere, Telopea) 
NSW TrainLink Intercity Trains
CountryLink services
Orange, Parkes, Dubbo and Broken Hill (weekly)
More information: Sydney Trains
Many rail stations are wheelchair accessible including Parramatta, Granville, Westmead, Guildford and Dundas (note: latter two stations are not staffed for all train services). More information: Sydney trains accessible services 
Sydney Buses
Over 50 bus services connect through the Parramatta Interchange with services to both local and regional destinations including Castle Hill, Hornsby, Ryde, Sydney, Strathfield, Bankstown, Hurstville, Sutherland, Liverpool and Rouse Hill. 
More information: Sydney Buses
Sydney ferries
Travel by ferry from the Sydney Harbour along Parramatta River to Parramatta Wharf (corner of Charles Street & Philip Street) or Rydalmere Wharf (John Street).
More information: Sydney Ferries
More information: Transport for NSW or call 131 500
Private Buses
Private buses servicing Parramatta include:
Cycleways
Bike map download (Westmead and Parramatta)
Parramatta Valley Cycleway (Ride from Morrisan Bay Park, Ryde to Parramatta CBD or connect to Sydney Olympic Park from the Silverwater Bridge)
T-ways Cycleways (Shared pedestrian and cycle transit-ways to Liverpool via Wetherall Park and to Rouse Hill via Old Windsor Road)
M4 Motorway Viaduct Route (Links Auburn, Granville, Holroyd and the Parramatta CBD via Good Street or Mays Hill)
Parramatta to Liverpool Rail Trail (Runs parallel to the railway line through Merrylands, Yennora and Fairfield to Liverpool across 17 metres)
Parramatta Park (Favourite riding spot for local riders half the size of Centennial Park)
Bike Parking
Over 40 secure bike parking spaces are available in Erby and Howood Place car parks (Parramatta City CBD):

Access is controlled by member swipe cards and bike storage areas are monitored by 24-hour CCTV
A monthly $20 membership fee gives members 24-hour access to the secure bike parking cage, change rooms and personal lockers
To join, call Secure on 9633 1863 or visit the office in either Erby or Horwood Place car parks. Check out all locations and find out about hiring a locker
Other Cycling resources
Our goal is for cycling to make up five percent of work trips to the city by 2021. 
Walking
City of Parramatta's open space network contains many informal walking tracks and trails, which provide a variety of opportunities for residents and visitors to experience nature.
Explore Parramatta's many walking tracks and discover Parramatta CBD and surrounds by foot, or uncover a self-guided walking and cycling trail.
Parking
City of Parramatta operates paid ticket parking in the city centre and North Parramatta that helps visitors to find parking spaces and encourage greater patronage of local businesses. Lower ticket parking rates apply in the northern and southern fringes of the CBD. Parking restrictions have also been installed beyond the metered area to ensure that there is parking available for residents, visitors, and local businesses.
Find out more:
For Download